All's Fair in Art and Money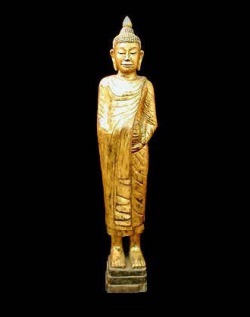 Heather Harrison has finally impressed her ever absent mother. She has purchased and restored a beautiful Victorian home in Newport, Rhode Island and filled it with antiques and rare art. You have been invited to join her and her mother in a house warming weekend of show and tell.
Everyone will be bringing photos of their latest acquisitions and you will be no different! In addition to your new identity for the weekend, you will be provided with all the materials required to impress this group of wealthy collectors, art aficionados, museum curators and archeologists.
The center piece of much controversy and envy is the new and incredibly rare Cambodian Buddha statuette acquired by Heather and coveted by all. When the statue goes missing and a body is found in the house, are you to blame? The mystery deepens all day Saturday and even the Dalai Lama would be confused!
Collect some friends and book now!
---
Til Death Do Us Part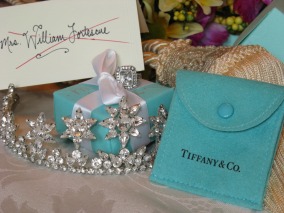 Neil and Nicole invite you
to join them in celebrating their marriage
on Saturday the ___of ____ two thousand and ten
at six o'clock in the evening
Architect's Inn
2 Sunnyside Place
Newport, Rhode Island 02840
---
Come make our union a reality!
With three failed attempts in the past year, this one should finally take!
We know you couldn't make the last few, but maybe that's why they didn't work out.
We first tried Vegas, and grandpa died.
Then we tried the traditional sophisticated church wedding and the Priest died and the church burned down.
The last time, we tried a simple backyard ceremony but, following the rehearsal dinner, everyone was laid up with ptomaine food poisoning.
The next day we decided to go through with it anyway. Again we were thwarted when our ring bearer and German Shepard "Lucky" was found dead having swallowed the rings!
This time is "destination wedding-ed"
to be different.
What else could possibly go wrong, after all?
RSVP to Architect's Inn here
The Heist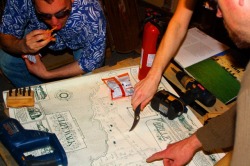 I'm assembling a team and need your help.
I need experts in all areas, safe cracking, driving, technology and weaponry.
We have the job of the century lined up but we can't pull it off without everyone's assistance. . .
Our window of opportunity is small, so a team of well practiced experts like you will make this impossible mission a cake walk.
We have an unprecedented chance to snag almost $1 billion in negotiable US Treasury bearer bonds. Issued during the Spanish American war, these bonds have matured with a grand 3% compound interest for more than 100 years. He or she who holds them will be added to the list of the world's richest people! Hidden away in a lock box in the belly of the Victorian age yacht "Coronet," these bonds were discovered by a friend of mine and are destined to be shipped off to the Rothschild family (they don't need MORE money!). We are in a race against time, so sign on soon or lose out on this once in a lifetime opportunity!
I've made arrangements for us to stay at the Architect's Inn on 2 Sunnyside Place. Your participation will transform this Victorian cottage into headquarters for the con of the century!
What room do you prefer?
---